About Us

The dream of a pioneer, GUPTA INTERNATIONAL, is a major presence on the textile export scene.What began as a modest export house selling Ethnic Indian Textile Products to all over the world, has today grown into a multi-product company covering a diverse and dramatic range – FLOOR COVERINGS ( Rugs, Beach Rugs, Rag Rugs etc.), BED LINEN ( Bedspreads, Duvet Cover, Cushion Covers, Throws etc.), KITCHEN ITEMS ( Aprons, Mittons, Pot Holders, Towel etc.), TABLE LINEN (Table Covers, Placemats, Napkins, Bread Baskets etc.), BATH LINEN ( Bathmats, Contour etc.), CURTAINS, and TAPESTRY. We deal all above items in Cotton, Wool, Leather, Acrylic, Rayon etc.
The collection is winning over new customers in the competitive international markets of USA, UK, JAPAN, FRANCE, SPAIN, GERMANY, ISRAEL, HOLLAND, ITALY, SOUTH AMERICA, CANADA, RUSSIA, AUSTRALIA & many other countries.

Gupta International has been awarded by Gold Medals during past four consecutive years
(1997-98, 1998-99, 1999-2000, 2000-2001 ) and many other prestigious awards from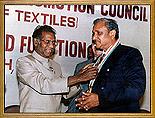 Govt. of India (Textiles Ministry) for its excellent and commendable performance over the years in Home Furnishing export market.
Yes ! what has brought the company success after success is the time-tested golden principle of quality. Gupta international has its own manufacturing facilities and all operations performed in home i.e. from dyeing to weaving of the fabric and fabrication and finishing of the product under one roof. (approx. 4,00,000 sq. ft. area).

Apart from this for all its textile products, the company uses premium quality yarns, dyes and raw materials. Every product, from the raw material to the finishing stage is subjected to stringent quality checks, under the strict supervision of experts.

To cater to the demanding taste, new and co-ordinated colors and designs are introduced frequently. The result is and ever growing demand of Gupta International products by some of the most reputed Big Whole sellers and reputed Departmental Stores and Fashion House of the world.


The features possibilities are immense and looks even better thanks to the break-throughs in technology. We will endeabour to make handicraft easier for you through inovation and excellence. Thank you for being our partner in progress. The credit of this success must go to you as a customer be with us to help us grow.